01 Jul

FITT Bluforce for irrigation systems and the recovery of salinized land in Southern Sardinia

Nearly 11,000 metres of FITT Bluforce-the first PVC-A pipe with EPD® environmental certification in Europe, obtained according to the ISO 14025 and EN 15804:2012+A2:2019 international standards – were used for the "Renovation and completion of the Muravera irrigation system and the recovery of salinized land" by Consorzio di Bonifica della Sardegna Meridionale, the South Sardinia region land reclamation consortium.
What's the plan?
The new distribution network, which covers an area close to the right embankment of the Flumendosa river, will provide a flow rate of 45 l/s to the Muravera district, meeting the irrigation needs of approximately 50 hectares of farmland.
The works will furnish the area with a public irrigation system, therefore eliminating the need for the current land irrigation network, which requires drawing resources from private wells and distributing them through a private infrastructure, a solution that over the years has given rise to salinization issues, resulting in damage to crops.
The new irrigation infrastructure will allow the recovery of currently compromised land and its reuse for the development of citrus crops.
The use of PVC-A as material of choice
During the design phase, PVC-A was preferred to PVC-U, a material traditionally used for the construction of new irrigation infrastructures. The PVC-A polymer alloy, obtained from the combination of polyvinyl chloride (PVC-U) and chlorinated polyethylene (CPE), brings together the strength of PVC-U and the ductility of polyethylene, resulting in a product that offers very high resistance to crack propagation, the main cause of failure in pressure networks.
PVC-A guarantees a longer service life of irrigation and drinking water supply networks and greater reliability in water service delivery, along with lower long-term maintenance costs.
Moreover, the ductility, light weight and ease of handling of FITT Bluforce make installation easier and quicker, reducing the disruptions generally associated with construction sites.
Lastly, PVC-A is a more sustainable material than PVC-U: by comparison, the production of PVC-A results in a 20% reduction in CO2eq emissions, quantifiable at 14 kg CO2eq per metre of extruded pipe.*
This project required the use of FITT Bluforce pipes of different diameters: 110, 160, 250 and 315 mm.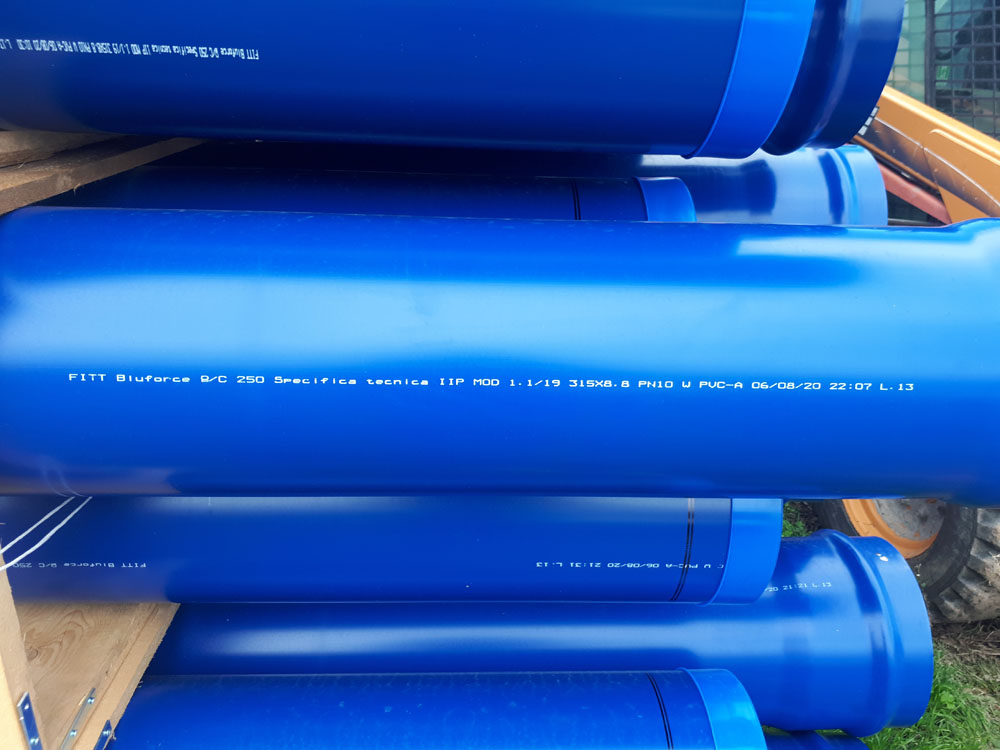 *estimated reduction based on LCA study conducted in collaboration with CESQA (Centre for Quality and Environmental Studies), Department of Industrial Engineering, University of Padua.