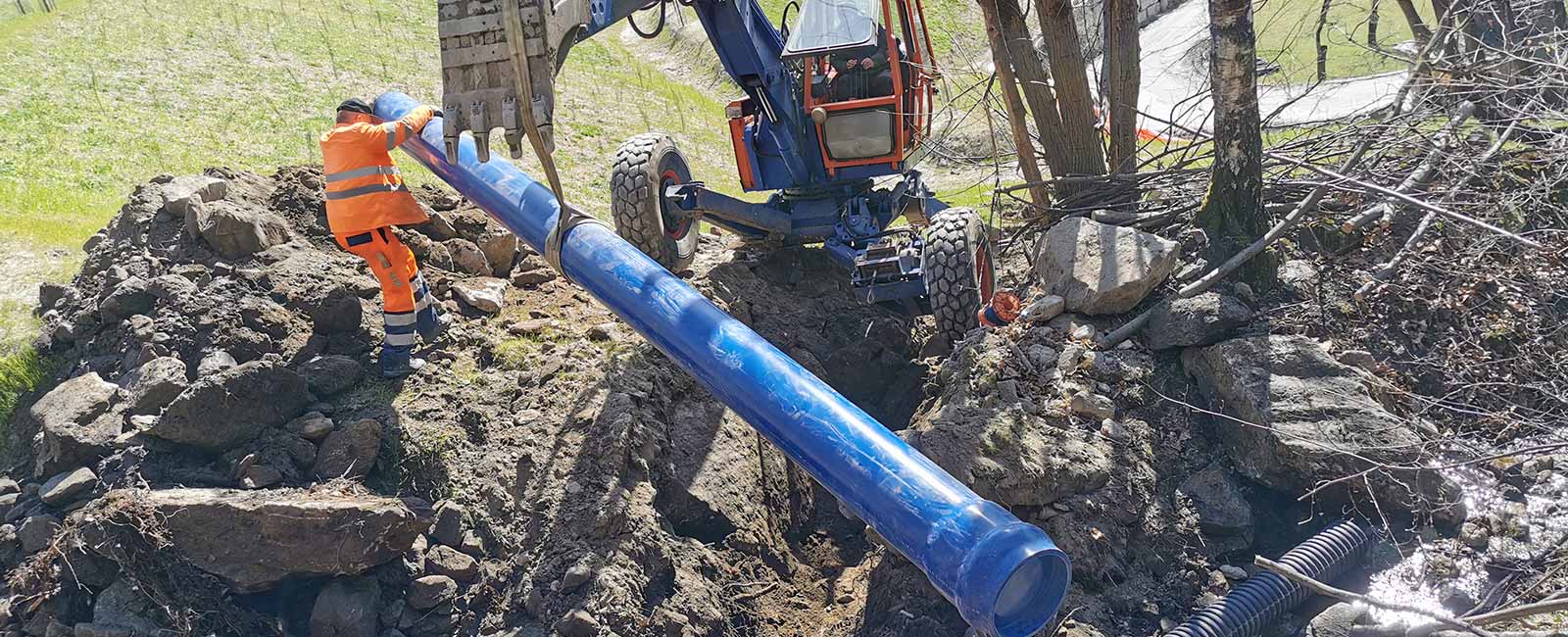 10 May

The FITT Bluforce system for environmental protection in the Val d'Ossola Valley

On the slopes of the Monte Rosa massif, in the uncontaminated Val d'Ossola Valley, Idrablu SpA, the integrated water service utility of the area, has started the works for the connection of the drinking water network of the Valle Antigoro and Formazza Valley to the drinking water network of Domodossola.

The initial project entailed the use of metal pipes welded together. However, the laying difficulties caused by the constraints of this mountain region drove Idrablu, the CGM srl planning studio and the company Guerrini Costruzioni to look for an alternative solution that could make the installation activities less complicated.

The choice fell on the entire FITT polymer alloy range for drinking water networks: FITT Bluforce was used in the areas with gentler slopes – for a total of 2,004 linear metres -, while FITT Bluforce RJ with tensile resistant jointing system proved the ideal product for tackling the more extreme areas (for a total of 702 linear metres).

The ease of assembly of FITT Bluforce RJ pipes made it easier for the construction company to deal with steeper slopes, allowing them to avoid difficult and costly welding activities, whilst at the same time ensuring a quick laying pace and the hydraulic safety of the works.

The use of the FITT Bluforce, the first PVC-A system with EPD environmental product declaration certified by SGS according to ISO 14025 and EN 15804 standards, has guaranteed the environmental protection of the works.
Being made of virgin material free of phthalates, dioxins and heavy metal additives, FITT Bluforce pipelines are extremely easy to recycle. Moreover, with their EPD environmental product declaration, they are capable of meeting the requirements for green procurement of Public Administrations (Green Public Procurement) and the Minimum Environmental Criteria (MEC) for the road and building construction and maintenance sectors.

Last but not least, thanks to reducing the environmental and social impacts during the installation stage, the FITT Bluforce system naturally fits into such an authentic and pure landscape as that of the Val d'Ossola Valley.